Dear ATHENATHLETES!  
We are pleased to announce that the third edition of the ATHENATHON, our green sporting event, is launching on 9 May 2023 for Europe Day! The event will last until 9 June 2023.  
We invite everyone to join us in reaching the combined distance between all our partners and associated partners: 13,000km. Last year, we reached 31,500km so let's beat this record!  
Because ATHENA is "an Alliance for a green and digital Europe", we encourage all types of green and carbon-free activities: walking, cycling, swimming, running, hiking, etc.  
In order to take part in the event, each participant will submit the number of kilometres they made by posting it on Twitter, Facebook or Instagram with the official hashtags of the event #move4athena or #athenathon and a screenshot of their favourite tracking app performance as evidence, or by joining our Strava Club: ATHENA European University. Each participant can contribute multiple times and join from anywhere in Europe and beyond!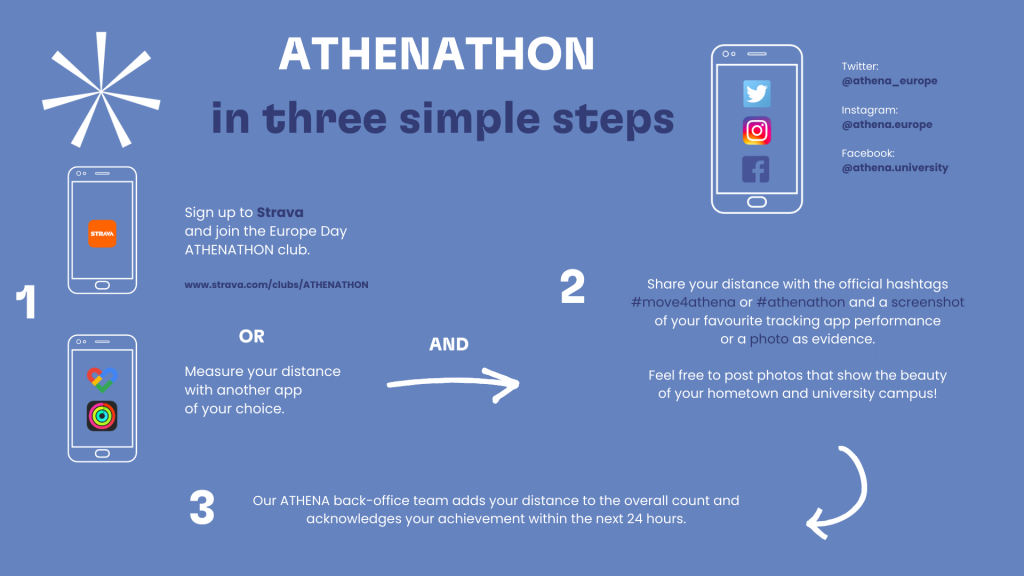 Frequently asked questions