Contemporary economy and business environment is becoming more and more sophisticated. In order to be competitive in the job market, university graduates need to have a wide range of skills. Therefore, introduction of research and development activities in undergraduate studies probably has never been so important as it is today.
ATHENA is a platform where partners look for novel ways to integrate students into research activities.
Recently a model of undergraduate student integration into university's research activities has been tested out in one of the partner universities – VILNIUS TECH. Here 1st to 3rd year undergraduates were invited to choose a research topic proposed by their professors. The best 27 applicants received VILNIUS TECH research scholarship for the initial research phase. Afterwards, the most motivated were co-funded by VILNIUS TECH and ATHENA to start their careers as junior researchers in the labs and research units to explore their research topics further.
This practise could be integrated into other partner universities and lead to a new generation of future researchers.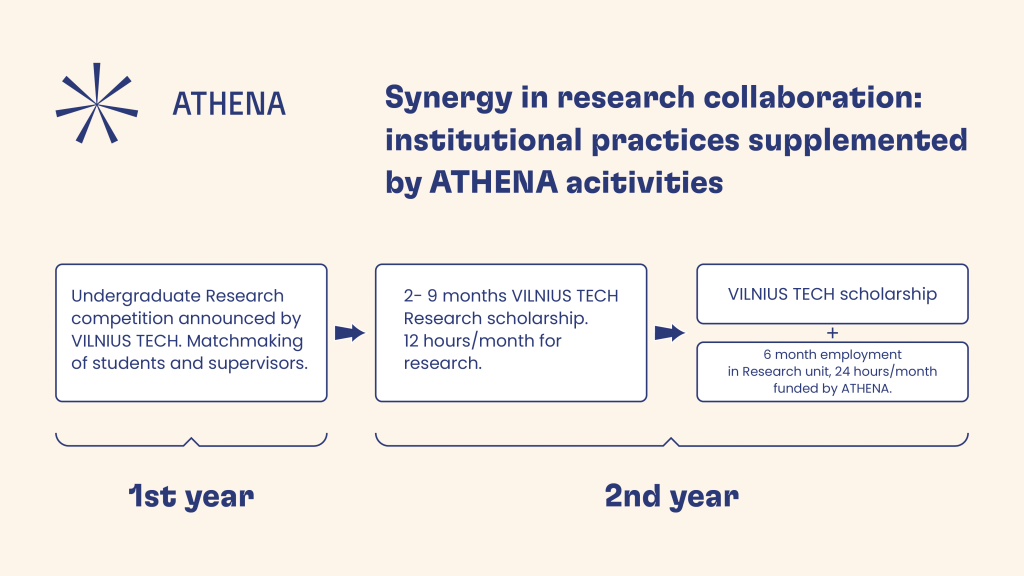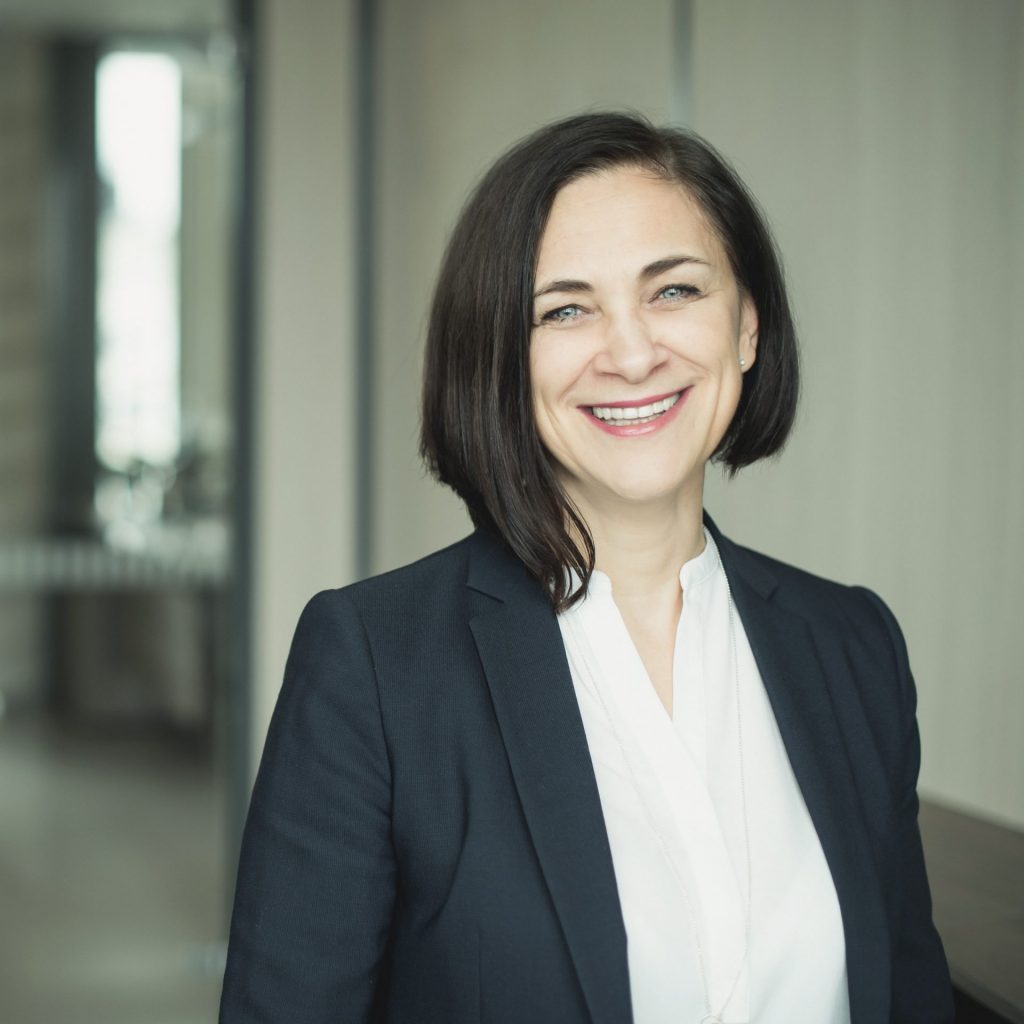 Dr. Asta Radzevičienė, associate professor and ATHENA project leader at Vilnius Gediminas Technical University (VILNIUS TECH)
There is a common practise at higher education institutions to integrate students into research activities during postgraduate studies. Bachelor students are commonly introduced to the research results rather than involved in research themselves. At VILNIUS TECH we took a leap of faith into our bachelor students and invited them to choose research topics they are passionate about and start investigating them. 
The spectrum of the students' research topics is very broad: from architecture to mechatronics. However, all of the topics correspond to the ATHENA priorities: IT and electronics, digital transition of the society, green deal and sustainability. 
Early involvement into research activities creates an appetite for knowledge and a lot of passion for creation. These people have the potential to grow into professional researchers and later bring their knowledge to businesses, as well as create innovation. That is the highest added value the university can offer.
At ATHENA we believe that the more undergraduate students are involved into research, the more will choose doing research later in their academic life and in the end bring their research knowledge to business.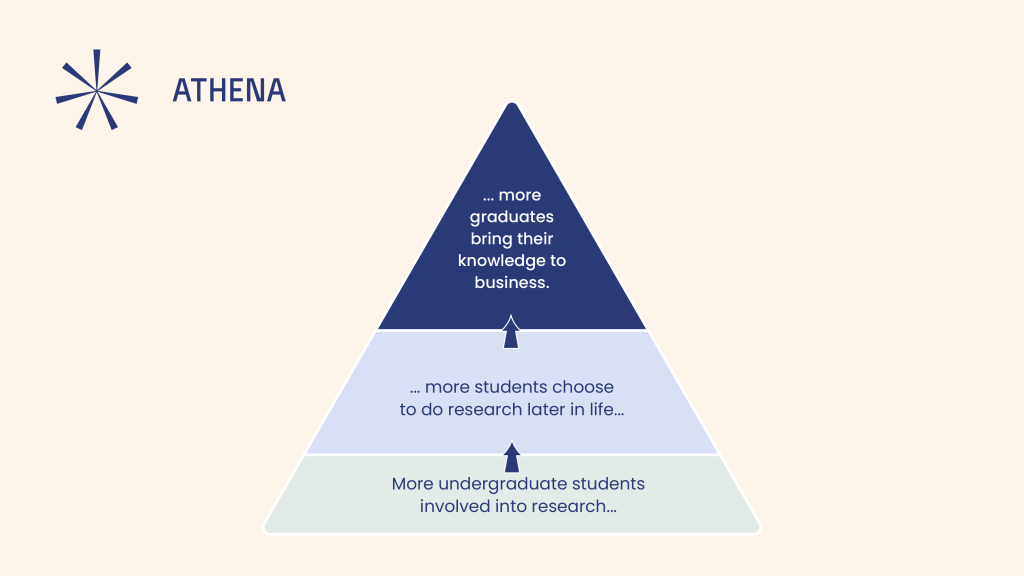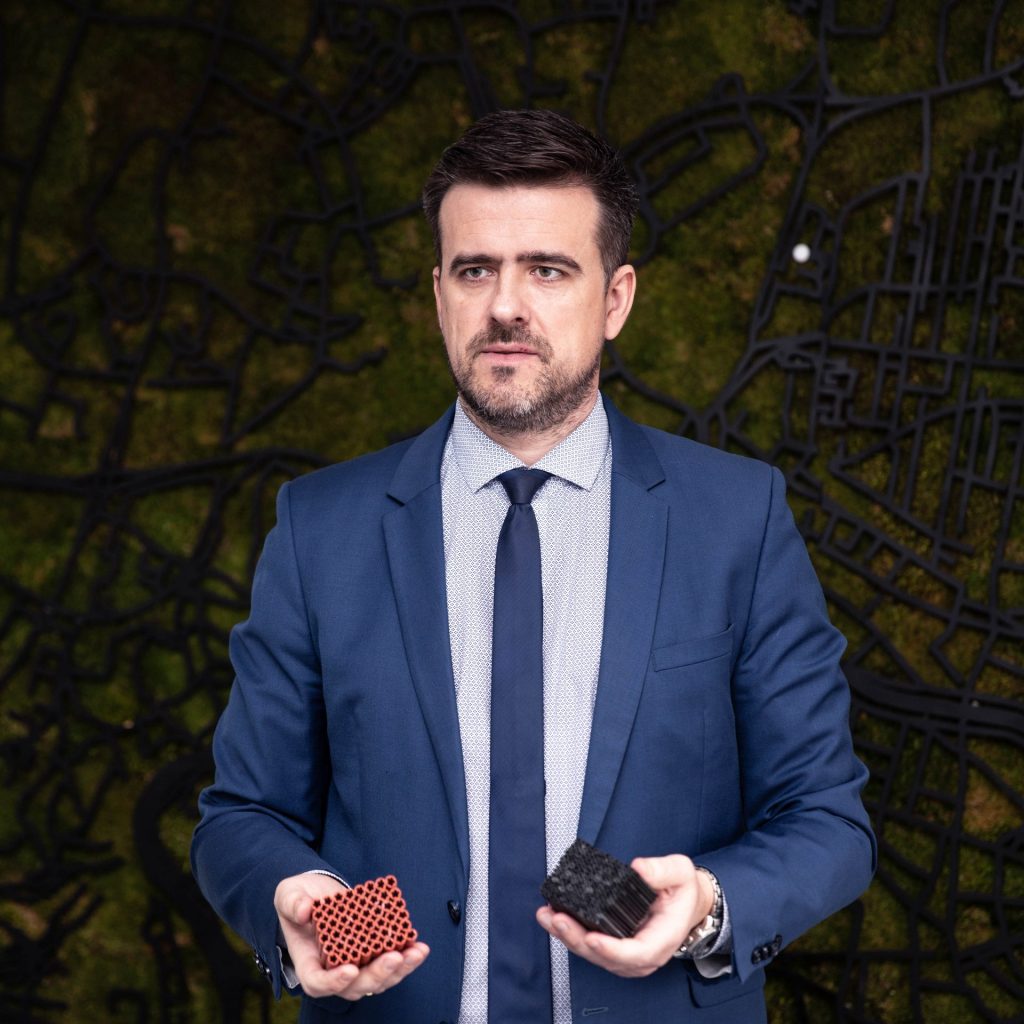 Dr. Raimondas Grubliauskas, associate professor at VILNIUS TECH
In our project me and my student Kamilė Ryliškytė are solving two environmental problems – waste reduction and sound reduction in the buildings. As I know, waste amount of electronic waste is growing 5-7 percent per year. Our technology made from used cables could replace existing absorbers and diffusers inside the buildings and contribute to the more sustainable environment.
Kamilė Ryliškytė, Environmental Engineering 3rd year student at VILNIUS TECH
From my childhood years I wondered why electronic waste is so complicated to recycle. So I got excited when I found a topic related to it at the research competition announced by my university. Currently the use of technological gadgets is constantly growing but only 20 percent of electronic waste is properly recycled.  I want to be the first person to take a step and make a change in this area. I am very happy that ATHENA took interest in this project, it gave me a boost of confidence and I can continue working on it. I believe that participating in research projects during undergraduate studies gives you a lot of important qualities for the future.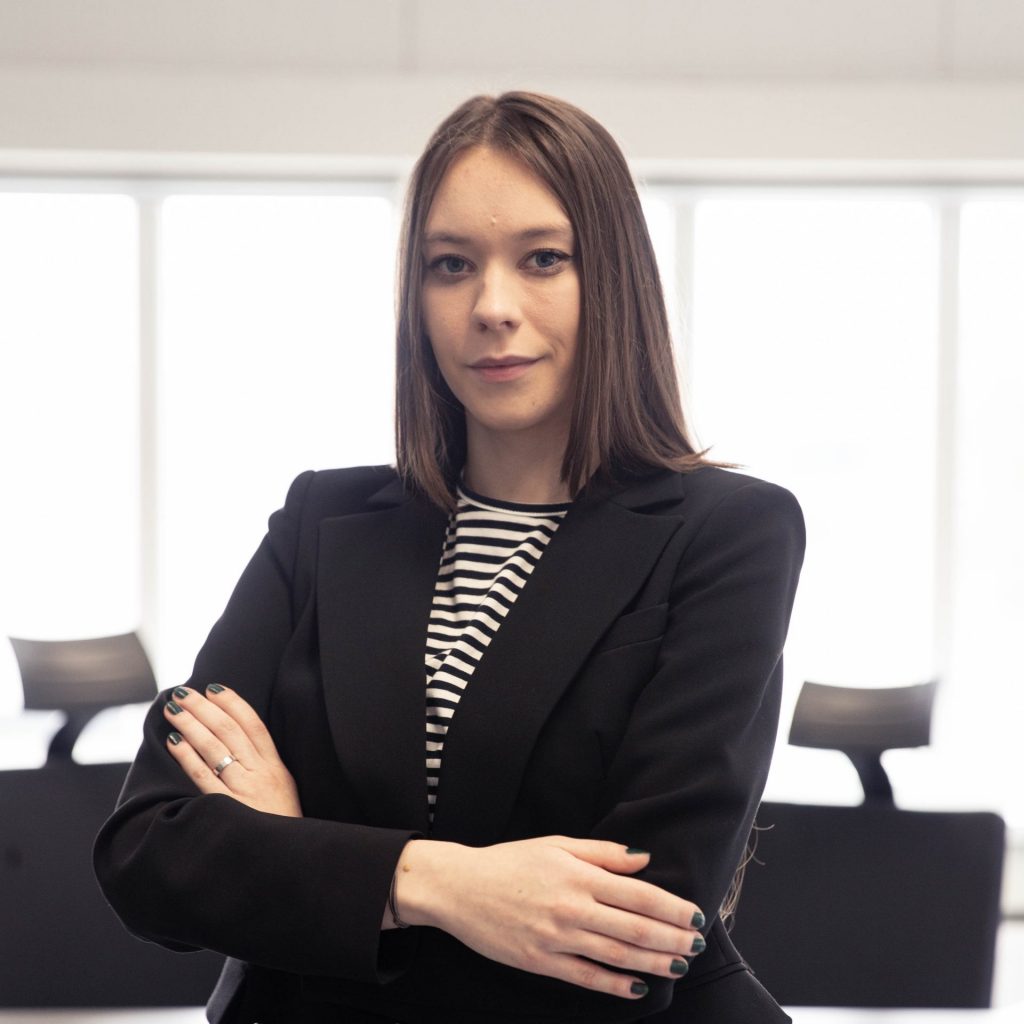 Gintarė Byčenkaitė, Business Management 3rd year student at VILNIUS TECH
My project aims to reveal which business sectors use green technology the most. It was very interesting to find out that these are logistics, information technology and construction. I chose the sustainability topic because since my childhood my parents taught me that sustainable environment is very important and it was just a matter of time when I will start to do research in this field myself. I am really happy that ATHENA finances my project and I can work on the topic I am passionate about.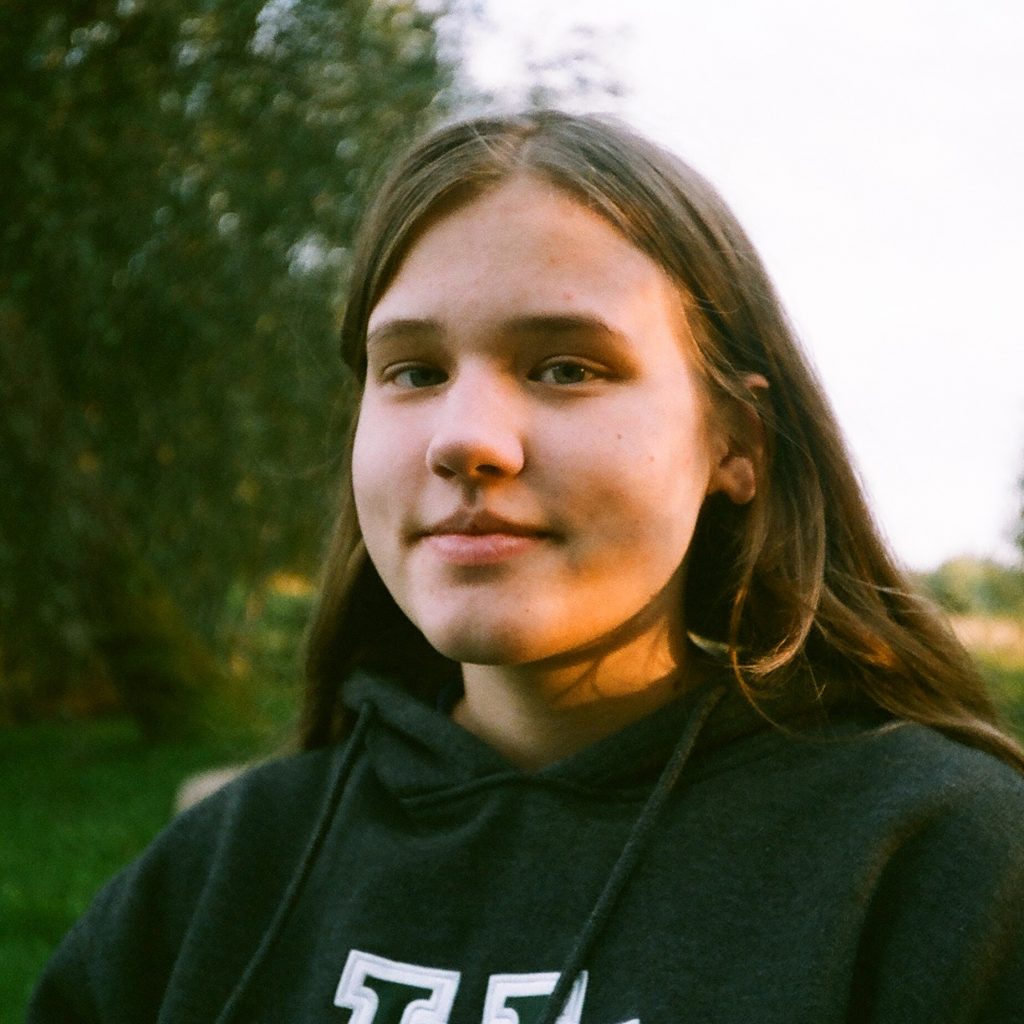 Lina Petrauskaitė, Mechanical Engineering 3rd year student at VILNIUS TECH
This contest caught my eye because I wanted to learn more about the scientific work itself and was especially intrigued by the topic of environmental protection. The funding allocated by ATHENA encouraged and allowed me to engage in scientific activities. My project is about acoustic agglomeration of ultrafine particles. VILNIUS TECH being one of the members of the ATHENA alliance, allowed me to make a full use of its academic infrastructure.
Mariia Goman, Bioengineering student at VILNIUS TECH
I am happy that from 2020 VILNIUS TECH offers bioengineering program in English language and I could pursue with my project that explores usage of dental implants for creation of a microbial biocell. I notice that students are often afraid to come out of their comfort zone. This fear prevents them from exploiting their full potential and the opportunities that university can offer them. So don't be afraid – go on and try!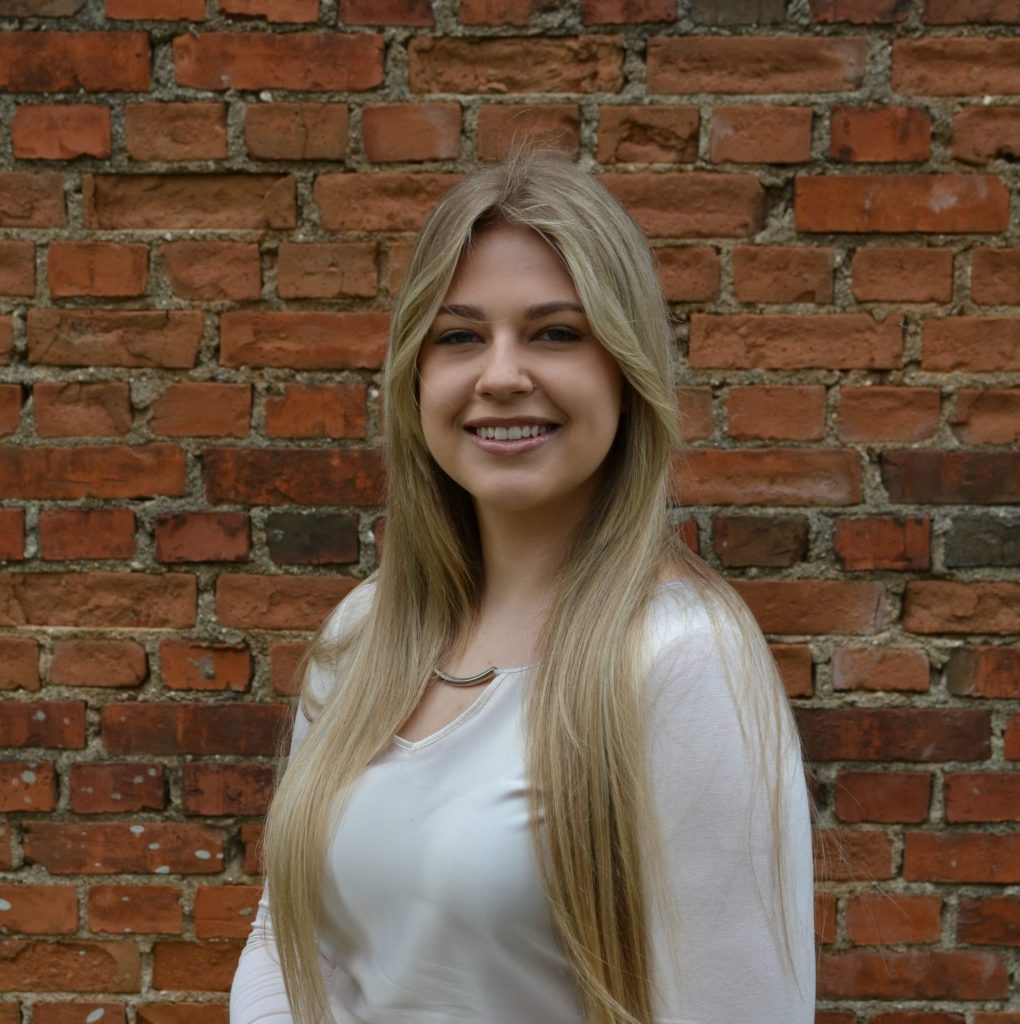 Žydrūnė Česonytė, Architecture 3rd year student at VILNIUS TECH
My research project examines the architecture of the Lithuanian parliament (Seimas) and the historical significance of the events of January 13th, 1991, – the day of violent confrontations between the civilian population of Lithuania, supporting independence, and the Soviet Armed Forces. I created a 3D model of the buildings of the Seimas Palace, identifying the elements and temporary roles based on historical and archival material. The model will help schoolchildren, educators, and visitors learn about its architectural style and layout. It is also useful for those who are physically unable to visit the Palace. Overall, the 3D model improves the public's understanding and appreciation of Lithuania's cultural heritage. Working for a university from the ATHENA alliance brings benefits such as better cooperation, networking opportunities, and international recognition. It allows joint research projects, provides funding, and promotes a diverse academic environment.
In September, 2023, some of these students' works were published in the ATHENA Research book, Volume 2. The ATHENA Research Book provides a platform that promotes joint and interdisciplinary research projects of both advanced and early-career researchers and presents a selection of the ATHENA university partners' research activities. You can download the ATHENA Research book, Volume , here.